James Welsh Boy Soldier
James Welsh enlisted in the Army on 26th July 1917 at Greenock although only aged 15 years and 10 months.
He did so using the alias James Bryceland, born in Sligo and now living at 13 Ingleston Street. He stated he was a labourer aged 19 years and 4 months and his next of kin being Annie Welsh "Aunt" of the same address.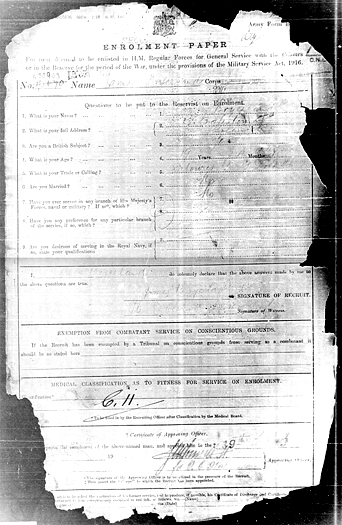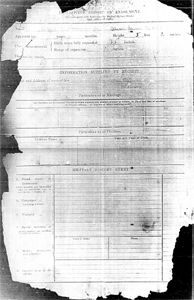 Annie of course being his natural mother.

On enrolment he was 5'2" tall with a fully expanded chest of only 37", dark brown hair and blue eyes, his only distinguishing mark being a mole on the back of his right hand. He was classified medically fit for service as Grade Cii and the 15 year old boy was posted to the 39th Training Reserve. During the summer and autumn of 1917 he trained at Stirling, Dunfermline and finally Bridge of Allan.

1 November 1917 saw him transferred from the Training Reserve to the Labour Corps and he was posted to 395 Labour Coy as Private 460903 James Bryceland.
On 14 November 1917 he embarked at Folkestone bound for Boulogne. Shortly afterwards his true identity must have been realised for on 24 December 1917 he signed a declaration in Calais stating that his true name was James Welsh this had to be accompanied by a copy of his birth certificate which would show his real age.

He remained in France serving as an orderly with the Labour Corps until the following year when he made a further declaration at Boulogne on 7 June 1918.

As still underage for active service he was returned to the UK on 19 June 1918. First to 881 Area Employment Company and then on 25 June 1918 to 296 Reserve Labour Company at Blairgowerie.

Eventually ending up in the 462nd Home Service Employment Company, Invergordon. After a further declaration of being underage and stating his parents as Patrick and Annie Welsh he was discharged on 9 September 1918 still only aged 16.

Although only in the army for just over 13 months he was awarded both the Victory and British Medals under the name of James Bryceland.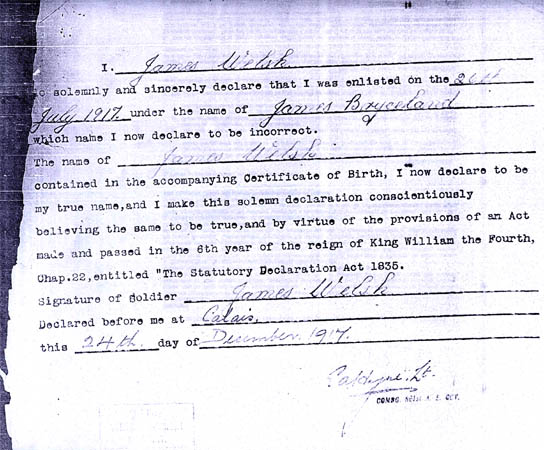 James Welsh was born on 25 September 1901 the youngest of six surviving children, all his siblings were girls. He married Mary Agnes Bannon on 16 April 1925 and the couple had nine children. James died on 26 March 1970 and is buried on the Isle of Gigha.
Postscript
The Labour Corps was formed in January 1917, the Corps grew hugely and by the end of the war numbered some 389,900 men (more than 10% of the total size of the Army). Of this total, around 175,000 were working in the United Kingdom and the rest in the theatres of war. Labour Corps units were often deployed for work within range of the enemy guns, sometimes for lengthy periods. In the crises of March and April 1918 on the Western Front, Labour Corps units were used as emergency infantry. The Corps always suffered from lack of transport, many inexperienced officers and troops of low physical grade.
Return to Welsh Family Photographs and Stories
Images are Crown Copyright
Postscript courtesy of Lt Col John Starling, Royal Logistics Corps